A study looking at preventing respiratory illnesses in aged care
Aged care providers in metropolitan and rural South Australia are partnering with the South Australian Health and Medical Research Institute (SAHMRI) to reduce respiratory virus infection rates in residents of aged care homes using ultraviolet light.
The COVID-19 pandemic hit hard for residents of aged care homes and showed exisiting infection control measures were not enough to prevent respiratory infections and, even more sadly, deaths. This study will explore the implementation of an additional and established infection control measure to reduce respiratory viral outbreaks in our vulnerable elderly population.
SAHMRI molecular microbiologist Professor Geraint Rogers is leading the trial using commercially-available ultraviolet-C (UV-C) light devices for air treatment in aged care homes in the battle against a range of respiratory viruses, including those that cause the common cold and flu.
What is the PETRA study?
Given the potential impact of COVID-19 and other common respiratory viruses to aged care residents, it is essential that transmission can better be mitigated. The Prevention of COVID-19 Transmission in Residential Aged Care using ultraviolet light (PETRA) study will evaluate the effectiveness of commercially available germicidal ultraviolet light (GUV) appliances in reducing viral respiratory illnesses in residential aged care.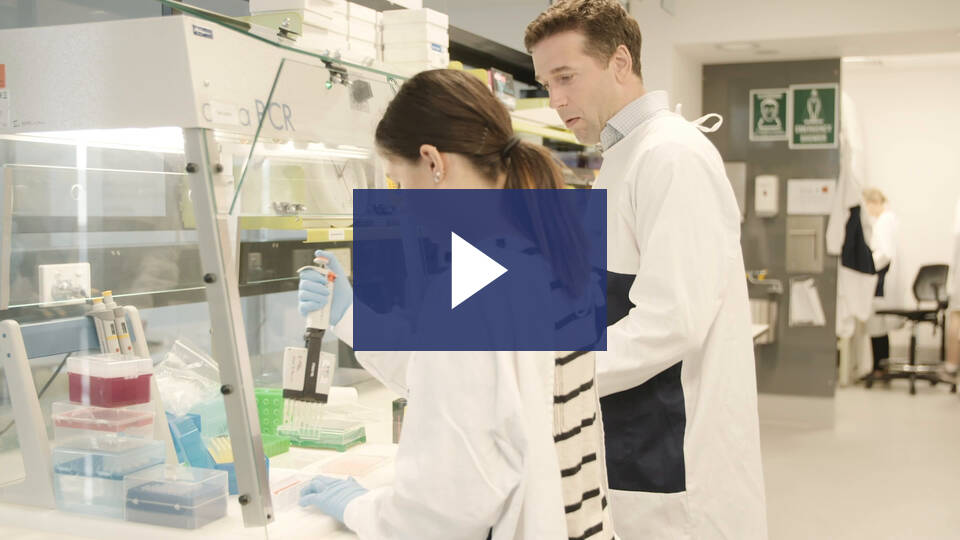 Who is involved in the study?
In early 2021, Professor Rogers and a team of co-Chief Investigators were awarded funds from the Australian Government's Medical Research Future Fund.
SAHMRI research team
Professor Geraint Rogers – Project Lead
Dr Amanda Brass – Study Manager/Coordinator
Dr Andrew Shoubridge – Postdoctoral Scientist
Ms Erin Flynn – Master of Applied Epidemiology Scholar
Dr Steven Taylor – Postdoctoral Scientist
Dr Lito Papanicolas – Infectious Diseases Consultant
Mr Levi Elms – Research Assistant
Ms Sarah Sims – Research Assistant
COVID-19 and residential aged care
Respiratory viruses, including COVID-19, can impact the health of aged care residents. The primary strategy for preventing transmission of respiratory viruses is good hygine, using personal protective equipment and isolating people displaying respiratory illness symptoms. However, COVID-19 was still effective and transmitted within aged care homes despite these measures, highlighting the need for increased protection.
What are germicidal ultraviolet (GUV) appliances?
GUV appliances purify the air by treating it with UV-C light rays which inactivate micro-organisms like viruses and bacteria. The GUV appliances used in this study are commercially available (LAF Technologies, Melbourne, Australia) and used in a wide range of clinical and commercial settings, including hospitals.


There are three types of GUV devices used in this study. The UV-FLOW will treal the naturally circulating air. The UV-FAN and UV-FAN-XS are fan-driven units for air treatment.
All appliances will be installed and maintained by a certified contractor. Depending on the type of appliance ultraviolet rays are either confined to high level room zone (ceiling height) or entirely contained within the unit, allowing air to be safely treated when people are present. The appliances are NATA accredited (ISO21501-4), Eco Warranty accredited, ISO9001 quality accredited, and ISO9001:2015 certified.
Where will the GUV appliances be placed?
The GUV appliances will be installed and used in only the communal areas within aged care homes, areas exposed to high volumes of people which helps facilitate the transmission of airborne viruses.
No appliances will be installed or used in private rooms such as treatment rooms, bedrooms or bathrooms.
What happens when the study is finished?
A short summary of the study findings will be provided to residents and their families at the end of the study.
Study reports & findings
These documents will be posted here once available.
Coverage of The PETRA Study on 10 News - 13 September 2021
Additional information
This project has been approved by Bellberry Limited Human Research Ethics Committee (No. 2021-04-403), is registered with the ANZCTR (12621000567820) and is funded by the Australian Government - Medical Research Future Fund.
For further information on UV-C contamination control and surface treatment, please visit here.
For the international UV-C safety guidelines, please see this position statement by the Global Lighting Association.
For more information, please download the brochure here.
---
Contact us
Email: petra-study@sahmri.com
Phone: (08) 8128 4263